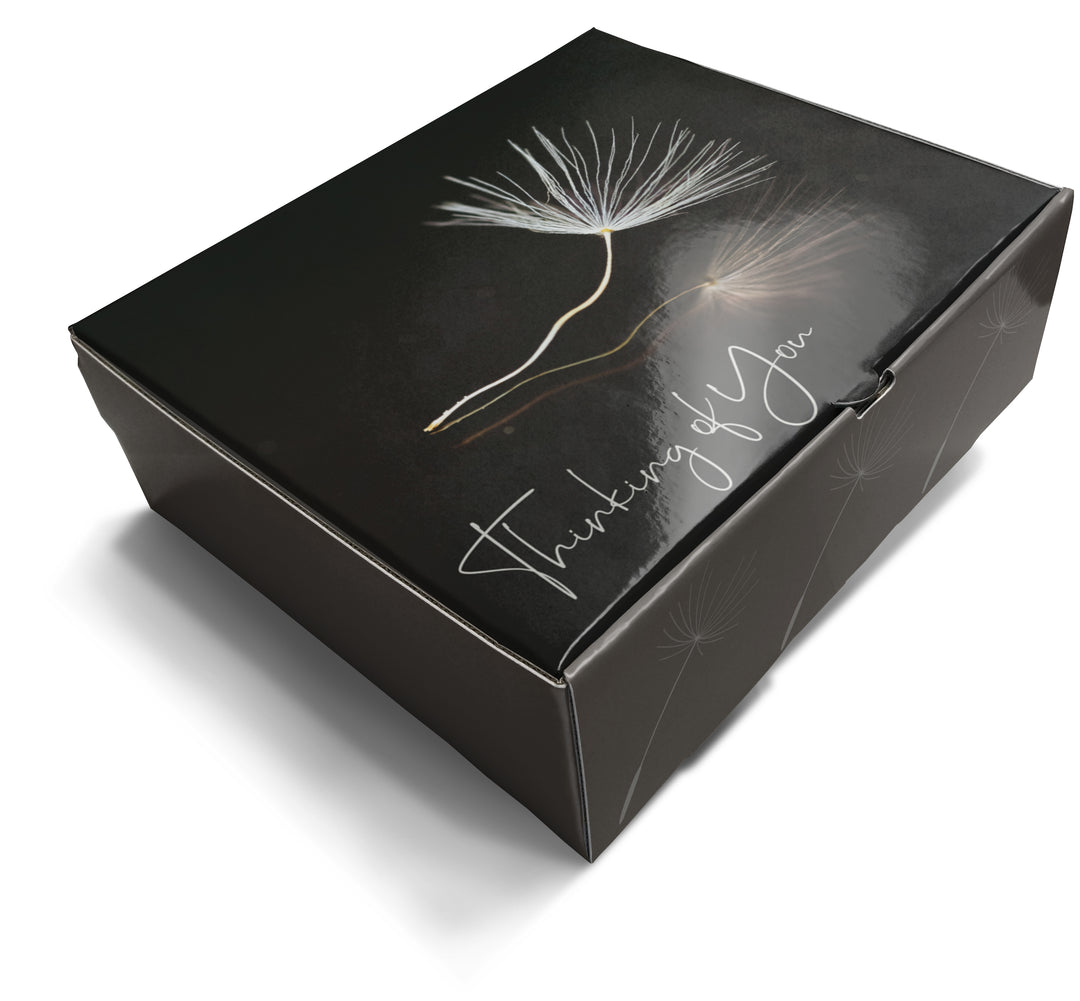 Thinking of You Condolence Boxes
---
In stock, ready to ship

Inventory on the way
Introducing the "Thinking of You" Condolence Box
A Thoughtful Path to Healing and Remembrance

Navigating the journey of grief requires comfort and connection. The "Thinking of You" Condolence Box, brought to you by Kimberly Cole Signature Gifts, is a heartfelt offering meticulously designed to provide solace during times of loss.  The subscription boxes a span of 12 months: 4 boxes shipped every 3 months. 

Discover the Contents:

Within each quarterly delivery, they'll uncover carefully selected items that offer comfort, honor cherished memories, and support their healing journey.

Box 1: Remembering Your Loved One will include items like:
- A keepsake.
- A thoughtful grief journal, a refuge for thoughts and emotions.
- Comforting tea or coffee blend, perfect for moments of reflection.
- Scented candle, creating a serene ambiance for contemplation.
- A heartfelt letter of empathy, providing gentle guidance during early stages of healing.

Box 2: Nurturing Self-Care will include items like:
- A nurturing self-care book, a source of strength and resilience.
- Plush blanket and relaxation essentials, cocooning them in comfort.
- Aromatherapy diffuser, elevating their space with tranquility.
- Stress relief kit. 

Box 3: Connection and Remembrance will include items like:
- A memory box, safeguarding precious tokens and letters.
- Handwritten letter materials, enabling heartfelt sharing.
- Curated resources for grief support, including books and online communities.
- Keepsake jewelry, a tangible reminder of your loved one's enduring presence.

Box 4: Celebrating Life and Hope will include items like:
- Gratitude journal, inspiring positivity in the midst of grief.
- Inspirational cards, carrying messages of hope and empowerment.
- Artistic or crafting kit, encouraging creative expression as a form of healing.


Each box will contain 3-5 curated items.  The items listed above are an example only of what may be included in each box.  

Why Choose the "Thinking of You" Condolence Box:
- A curated offering by Kimberly Cole Signature Gifts, embodying empathy and care.
- Personalized keepsakes that honor their loved one's memory.
- Gentle reminders that they are not alone on your healing journey sent every 3 months.

Help to Elevate their Healing Journey - Order the Thinking of You Condolence Box Today!

The "Thinking of You" Condolence Box encapsulates the warmth of connection and the power of remembrance. Let it stand as a tribute to their loved one's legacy and as a source of comfort and healing. Subscribe now and help them to  embark on a journey of healing, hope, and shared support.

*(Please note that the items in the box may vary due to availability.)*
Use collapsible tabs for more detailed information that will help customers make a purchasing decision.
Ex: Shipping and return policies, size guides, and other common questions.